Get it done right. Hire the guys who've been doing cost-effective website design and development since 1995.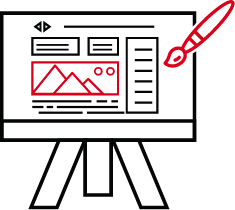 Long before the Internet took hold as a platform for marketing, we helped forward-leaning companies establish a web presence. There were no templates. There were no best-practices. Everything was hard-coded. Those were hard and expensive times.

Today, we're able to use industry-standard website design and build tools to develop sites that any company can afford. And we have the expertise to imagine functionality that most agencies overlook.

These things set us apart in website design and management:
Focus on meeting your business objectives,
Ability to differentiate your company and its products or services,
Expertise in attracting visitors, and
Understanding of sales to turn your website into a sales engineer.
Unlike other website design firms, we don't expect you to provide the content unless you want to. Our marketing copywriters can handle it. And we never launch a site until it's properly set-up for tracking traffic and search optimized for well-researched key phrases.
Websites are more than marketing assets. They must meet business objectives, too. We look at websites in three buckets.
Essential
Website Package
We make sure all the bases are covered—intelligently. This is for companies on a very limited budget or that need to get a website up quickly with limited future navigation and functional requirements.

This package includes:
Design, development, content for a Home page, 5 Landing pages, 1 Form, 1 Thank You page
Keyword/phrase development for relevant SEO (up to 25 keywords)
On-page search engine optimization (URLs, title and alt tags, schema-coding, etc.)
Google Analytics and Search Console setup
Hosting and SSL setup
30/60 day post-launch keyword checks
Semi-Custom websites
We start with a website strategy session* to nail down the critical details for companies with technical and functional requirement that exceed our Essential Website. Semi-custom websites typically make use of special plug-ins for added features (e.g. ecommerce, progressive forms, content feeds) and have more extensive content needs.
Custom websites
We start with the same website strategy session* we use for semi-custom website design, but these sites are where functional and technical requirements really push the envelope. Examples of special functions we've done are database-driven image libraries, dynamic copy, reverse geo-locates, paid download libraries, application integrations, more)
*Learn more about our Website Strategy Session >
How much does a website cost?
Essential Website Pricing Options
Price: $1,000 setup + $2,500 on launch
Price: $1,000 setup + $249/mo for 12 months
Pre-Launch Pages Upgrade: $600 for up to 3 additional pages
Post-Launch Pages Upgrade: $750 for up to 3 additional pages

We highly recommend to all our clients with WordPress websites — whether we've developed them or not — that they be on our Website Technical Maintenance Plan.
Learn More>