It's no secret that people tend to watch videos over reading. So, serve-up the information the way they prefer.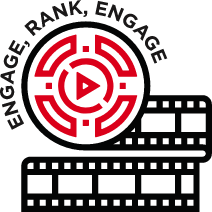 Websites most certainly have enough copy to keep the search engines happy — too little and it won't rank. But both search engines and people highly value videos. In fact, Forrester Research says that a website is 50x more likely to be ranked on page one of Google if it has video. People like them because they're more engaging and often a faster way to get the same information. Given a choice, they're 4x more likely to take-in a video and share it with others.

Our motion graphics abilities are extensive. We can creatively tell a story or 'just give 'em the facts.' And we're keenly aware of how to use them as a powerful way to communicate to various audiences and how to cross-promote them as part of your b2b or b2c marketing strategy.

Eye Candy
In this day and age, every company should consider an animated logo to show-off its brand. It's a perfect first-step into the world of motion-graphics — high-impact yet limited in scope. Use it on your social media accounts: Facebook, Twitter and Instagram. Of course, your website is a logical place for an animated logo, too — you may even want to headline it on your home page.

But really important, it sets the stage to move into videos where they're used for intros and outros. After all, you really can't have a static logo in videos. Logo animations come in all shapes and sizes for any budget and objective — ranging from simple 2D versions to highly complex 3D animations with memorable sound signatures.

We can get you started by integrating video into your marketing to amplify what's already working. You're likely to find that investing in videos and an animated logo might be the difference between mediocre sales and a great year.
Videos bring your messages to life. Think of them as a whole new marketing channel.
Nearly all your content, in any channel will be greatly enhanced with a video version of that same thing.
Explain abstract concepts with video white papers
Demonstrate products
Present testimonials / ROI stories
Animate logos
Animate diagrams and /illustrations
Create trade show loops
Post social media videos
Use in email blasts and enewsletters
Much More!